Curriculum
Our ASPIRE graduate framework underpins our curriculum offerings, we strive to develop aspiring, spiritual, positive, inspiring, resilient and empathetic young men who will provide outstanding service and leadership in our world.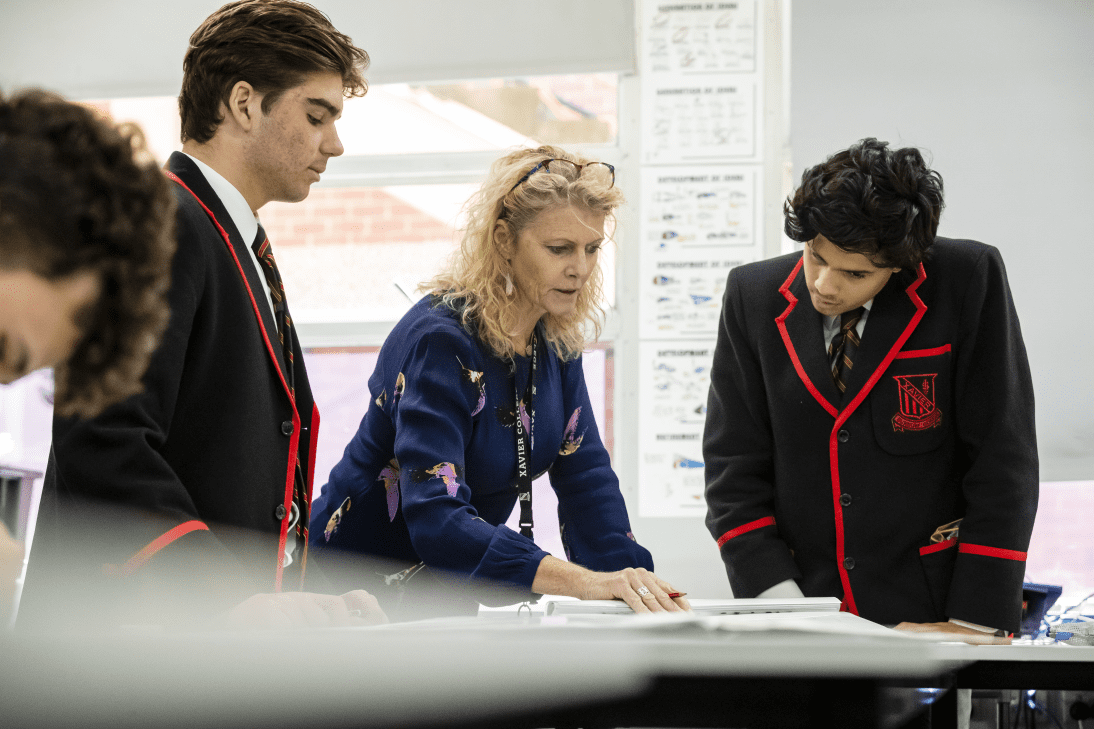 In the Jesuit tradition, the Ignatian Pedagogical Paradigm (IPP) encourages students to adopt a lifelong love of learning and a focus on understanding, experience and reflection in their studies, involvement in social justice programs, performance on the stage and participation on the sporting field. Our commitment to the IPP leads to all of our Teaching staff completing professional learning so they can embed the key stages of the IPP (context, experience, reflection, action and evaluation) into their subject planning and classroom practice.
At Xavier College, our curriculum is guided by the development of the whole person, a commitment to social justice and a global way of thinking and understanding. A Jesuit education encourages independent thinking, reflection, and discernment.
Recognising the importance of being lifelong learners, all of our staff participate in fortnightly professional learning that ensures staff are fully equipped with 21st century best practice teaching strategies and a focus on innovation and ICTs for learning ensures contemporary best practice.
Our curriculum offers our students the breadth of options to find their passion and to develop their God-given gifts, but also the structure to ensure that they have a strong basis of knowledge to prepare them for any path ahead. This has been the basis of the curriculum since the very beginning of Jesuit education and speaks to what we value most about education and curriculum as a holistic human endeavour.
We encourage our students to think critically, and wherever we can, give students agency over their own learning. We provide a dynamic curriculum with a number of subject options across English, Humanities, Maths, Sciences, Languages, Digital Technologies and the Arts, and offer extensive Sport, Music, and Performing Arts programs to all students.
As part of our commitment to ensuring that every student feels known, heard and understood, Learning Diversity covers the individual needs of students at all year levels, focusing on a spectrum of learning, socio-emotional and neurodiversity that also includes gifted and talented programs. In addition to the formal learning that students access through classroom teachers we offer a number of supports that allow students to access tutoring support before and afterschool.
Early Years (3-year-old Kindergarten - Year 4)
At Burke Hall Campus

In the Early Years at Burke Hall, we teach the International Baccalaureate Primary Years Programme (PYP), which promotes a transdisciplinary approach to education. The Victorian Early Years Learning and Developmental Framework Curriculum also strongly influences the way in which we view our students and shape and deliver content in the classroom.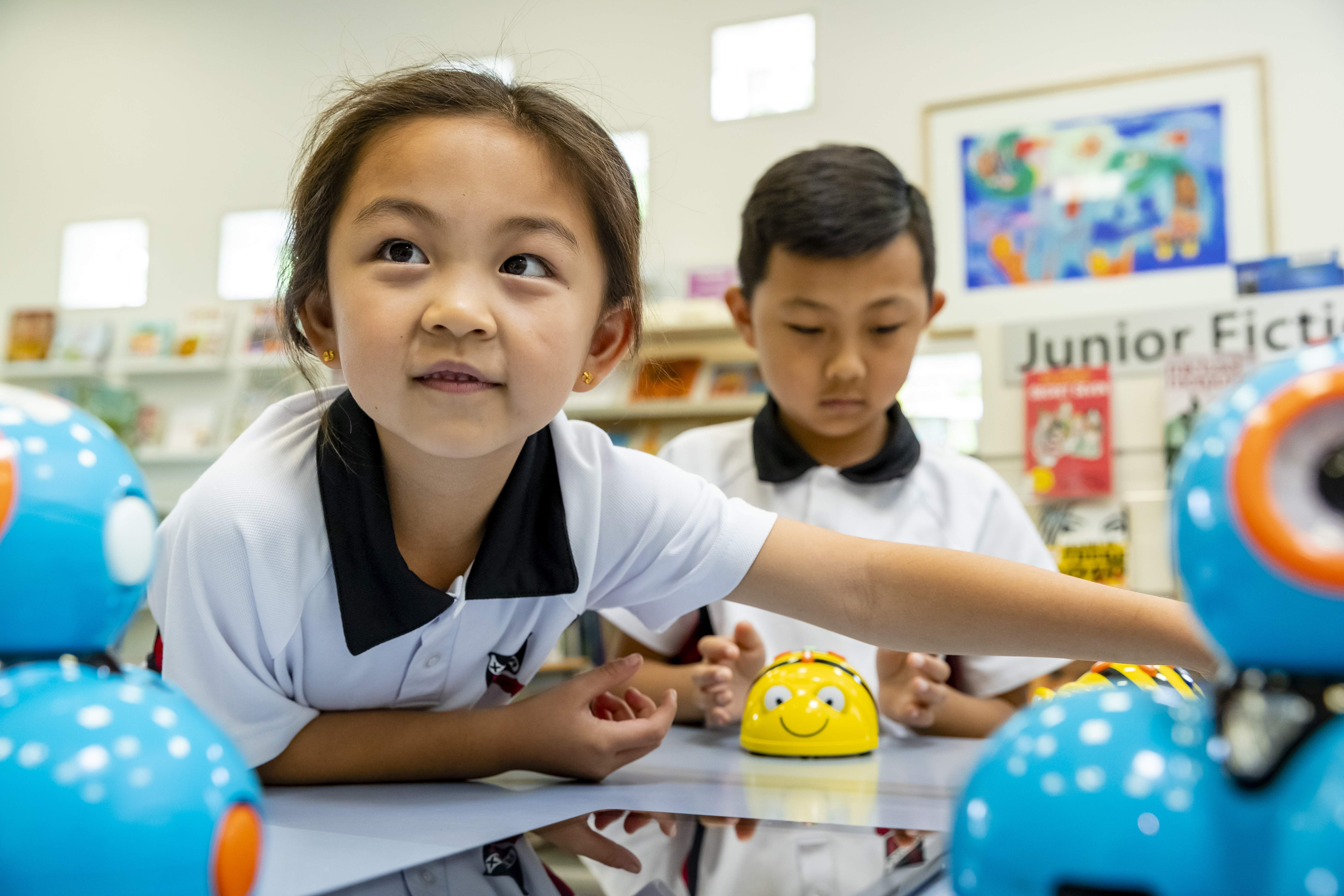 Middle Years (Year 5 - Year 8)
At Burke Hall Campus and Manresa (at Senior Campus)
In the Middle Years, the curriculum is taught sequentially using an inquiry approach. This gives students increased responsibility for their own learning and placing an emphasis on intellectual development, negotiation skills and peer support, and also allows students to progress according to their differing rates of accomplishment.
Senior Years (Year 9 - Year 12)
At the Senior Campus
In Years 9 and 10, an extensive range of course electives enable students to tailor their studies according to their emerging interests and talents. The curriculum is designed to increase students' understanding of the disciplines they are considering at the VCE level, so that they can make fully informed choices moving into their final years as well as develop and extend personal interests.
In Year 9 students at Xavier College learning pathway is structured in the following way: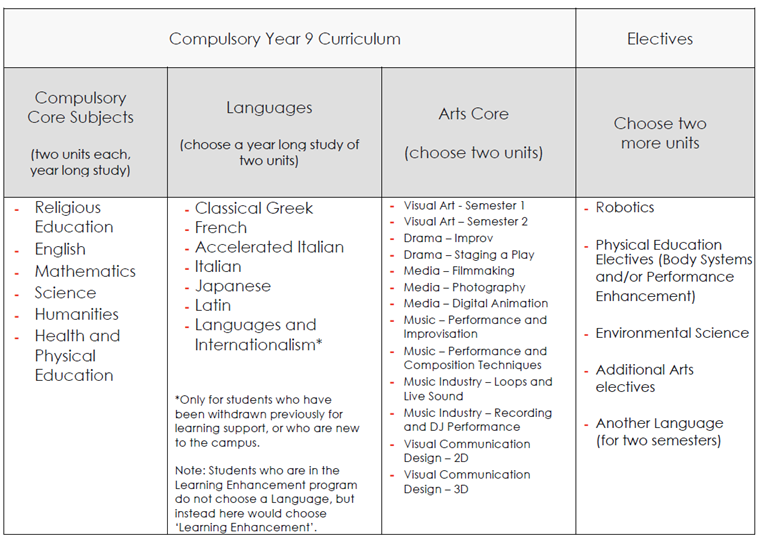 In Year 10 students at Xavier College learning pathway is structured in the following way: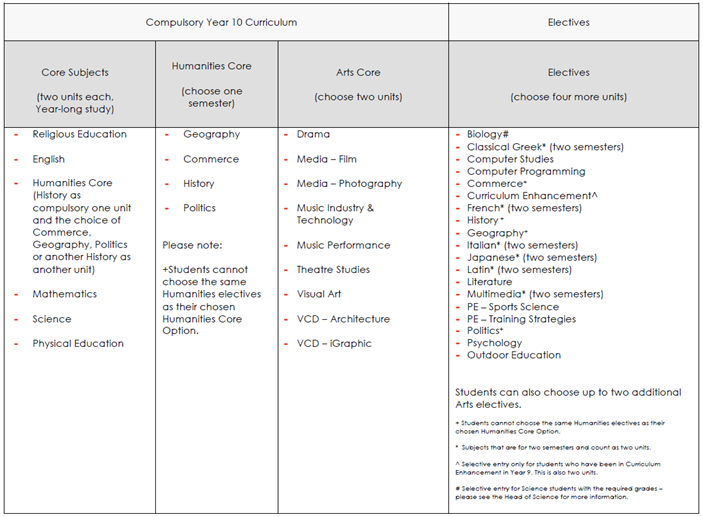 In Years 11 and 12 students predominantly complete the VCE (Victorian Certificate Education) with the option of completing some VET (Vocational Education and Training) subjects either onsite or in connection with external providers and partner schools. Xavier College strives for each student to achieve to their full potential, VCE study pathways and subject offerings reflect our commitment to academic excellence. Xavier has a Head of Curriculum and Assessment and Head of Future Pathways, these leadership roles together with Tutors are pivotal to providing support, pathway options and advice to students.
Our VCE teaching team include; VCAA Curriculum writers, Assessors, Exam Developers and, they are involved in various expert teaching panels delivering professional learning.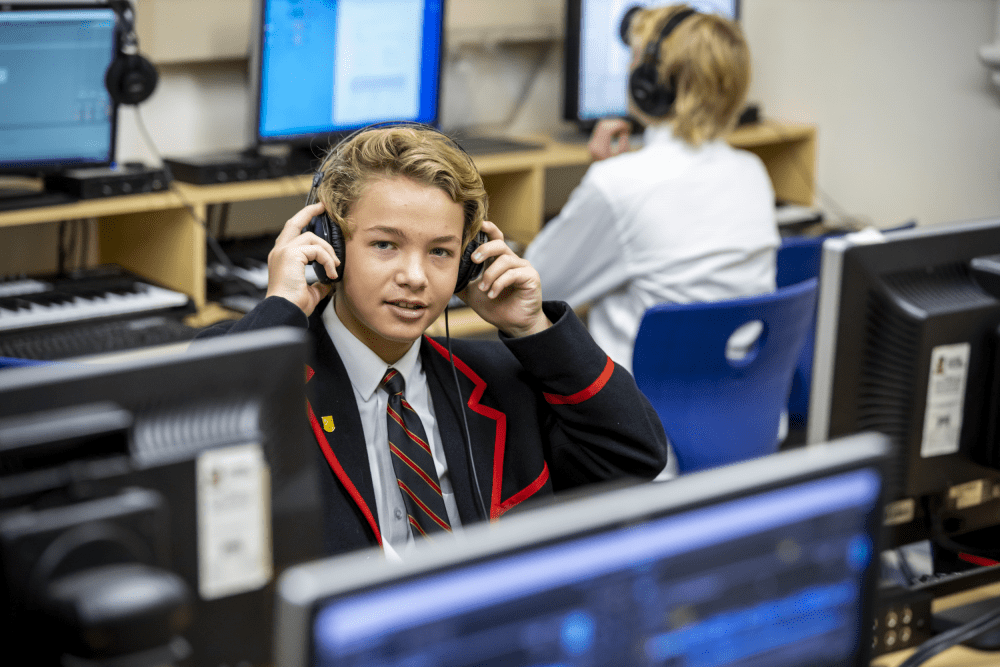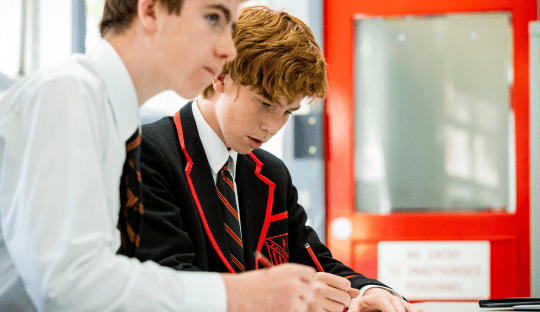 Linked in with our academic curriculum is the House and Tutor programme. In the Senior Years, students are divided into 10 Houses. From Year 9 onwards, each student is assigned a member of our teaching staff who is a Tutor from within their house to oversee both their academic progression and overall wellbeing. Tutors are a part of discussions around course pathways and subject options, they are an important connector between parents, home and school and work as an advocate to their Tutor students. The Tutor and House system provides students with support, encouragement and a strong sense of community.